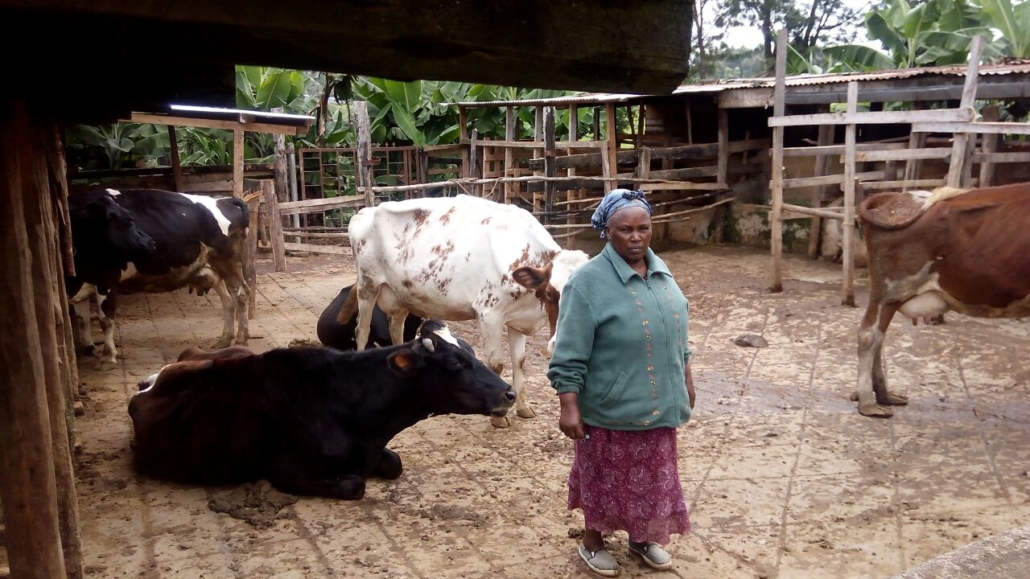 ECLOF attains social impact by targeting those in need and giving them access to financial and non-financial services that empower them and effect positive changes in their lives. Documenting these changes in a rigorous way continues to be a challenge not only for ECLOF but for the entire financial inclusion sector. Randomized control trials (RCTs) are a means of choice—but they take years to complete and plenty of resources to conduct. Even then their findings tend to be theoretical, not action-oriented and easily doubted.
Using an innovative methodology called Lean Data, ECLOF has now taken a deeper look at how clients experience our services in Kenya. Developed by 60 Decibels, an impact measurement company spun off from Acumen Fund, Lean Data is a fast, reliable customer-centric approach to impact measurement. Lean Data relies on mobile technology to communicate directly with low-income clients and collect high-quality impact data quickly.
In Kenya, 400 old and new clients with agricultural loans were asked 40 simple questions in short phone interviews. With the collected data, ECLOF Kenya is now able to measure and analyze the social impact of their services—and improve them based on the valuable insights gained from clients on their experience and satisfaction with ECLOF.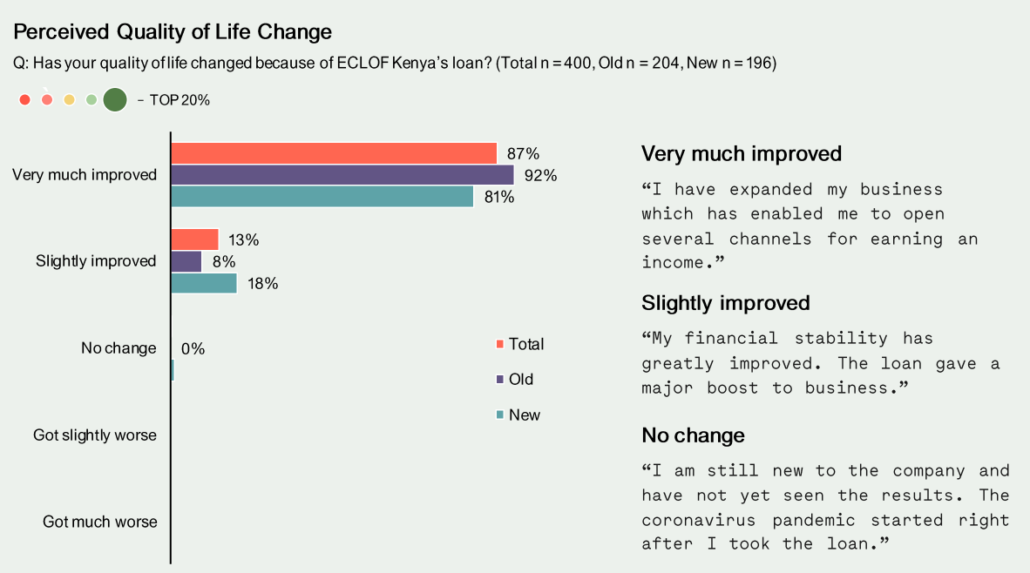 The results are impressive, with clients reporting strong satisfaction and social outcomes—also when benchmarked to all other organizations that have done this survey format. The study also contains rich insights regarding the depth of inclusion ECLOF Kenya is achieving through its agricultural loan products, the ways in which clients are coping with Covid-19, and their suggestions for improvement. Here are a few data points from the study:
74% of clients are from the poor or low-income segment, 20% are extremely poor
87% report quality of life "much improved" since taking a loan—vs a global microfinance benchmark of 36%
79% report "income much improved"
Impacts mentioned are "42% now able to pay school fees", "36% improved their business", "22% may purchase own property"
Client satisfaction is high—shown by Net Promoter Score of 77—vs a global microfinance benchmark of 42%
For 92% of women their role in the family has improved
As a result of Covid, for 61% of the poor clients, income has got "much worse" and 59% have had to reduce food consumption to eat less overall or less high-cost items like bread, meat and eggs
41% request leniency around repayments during Covid while 36% ask for higher loan amounts
Thanks go out to Global Partnerships, an impact-first investor from Seattle, United States, for supporting the pilot study in Kenya.
https://www.eclof.org/wp-content/uploads/2020/09/Alice-Njeri-sq.jpg
650
658
Barbara
https://www.eclof.org/wp-content/uploads/2018/03/ECLOF-Logo-microcredit-300x133.png
Barbara
2020-09-07 17:14:58
2020-09-22 17:34:10
New impact study: Using Lean Data to improve the lives of micro entrepreneurs and farmers