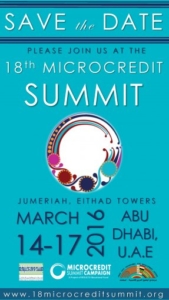 Feb 24, 2016 – ECLOF Kenya's Mary Munyiri will speak at the leading microfinance gathering in the world.
The Microcredit Summit's 18th edition, taking place in Abu Dhabi in March, is themed "Frontier Innovations in Financial Inclusion". The Summit will gather a wide array of practitioners, investors, government agencies and non-government organizations to explore how microfinance and financial inclusion strategies can create pathways out of poverty for the most vulnerable segments of society across the globe.
Panel discussions will circle around effective ways to reach the most vulnerable and marginalized and the microfinance services and financial inclusion strategies that promote inclusive, sustainable economic growth and social empowerment that helps improve their lives
ECLOF Kenya's CEO Mary Munyiri takes part in a session titled "Innovating Agricultural Solutions to Meet Smallholder Needs". Co-speakers in the session include the Chairman of India's National Bank for Agriculture and Rural Development as well as representatives of One Acre Fund, Opportunity International and the FAO.
Mary will contribute ECLOF's experience in building viable client-centered agricultural micro financial and non-financial services– credit, insurance, value chain integration and training on climate-smart agricultural practices–using internal capacities and external partnerships.
https://www.eclof.org/wp-content/uploads/2018/05/Save-the-Date-02-04-2016-1.jpg
510
287
atelierssud
https://www.eclof.org/wp-content/uploads/2018/03/ECLOF-Logo-microcredit-300x133.png
atelierssud
2016-02-24 14:41:14
2018-07-24 11:43:33
Credit and training for climate-smart agriculture: ECLOF Kenya's CEO speaking at Microcredit Summit