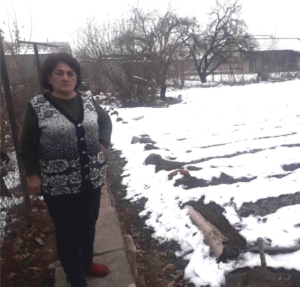 In Armenia, ECLOF aims to foster rural development by providing farmers and small rural businesses with access to much-needed credit and financial education. ECLOF's loans for agriculture come at affordable rates and with suitable repayment terms that suit the farmer's income stream.
Many of our clients have been hit hard by the lock-downs and economic contraction caused by the pandemic. For example Melanya Papeyan, 52-year old mother of 4 girls and a boy. 30 years back, when her husband migrated abroad for work, she started a small business growing strawberries. She's been a client of ECLOF for many years and has invested her earnings in bringing up the children. Recently she built greenhouses to raise her farm's productivity. Diligent and meticulous, Melanya takes care of each of her plants with attention. The quality of her products is recognized across her region. Her son works with her to fulfill the growing demand.
The arrival of Covid, however, has turned everything on its head: Demand and prices of foodstuffs fell drastically. Melanya could no longer sell her harvest of strawberries and they were starting to rot. But she showed ingenuity in using her strawberries to produce jams and dried fruits, thereby extending their shelf life. Thus, she was able to minimize her financial losses during this difficult period.
ECLOF Armenia remains close to customers like Melanya during these difficult times, rescheduling credits or providing information on coronavirus prevention. Her loan was rescheduled. This gave her some breathing room to recover. Like many self-employed workers, Melanya suffered from the economic slowdown across the country. But her resourcefulness and ECLOF's flexibility allowed her to bounce back and resume her activities. She testifies: "A wise person can find an intelligent solution to any difficult situation!"
https://www.eclof.org/wp-content/uploads/2020/10/ARMENIAmelanya-SQ.jpg
910
950
Barbara
https://www.eclof.org/wp-content/uploads/2018/03/ECLOF-Logo-microcredit-300x133.png
Barbara
2021-01-25 09:27:32
2021-01-25 09:38:40
ECLOF Armenia: Rural producers dealing with Covid