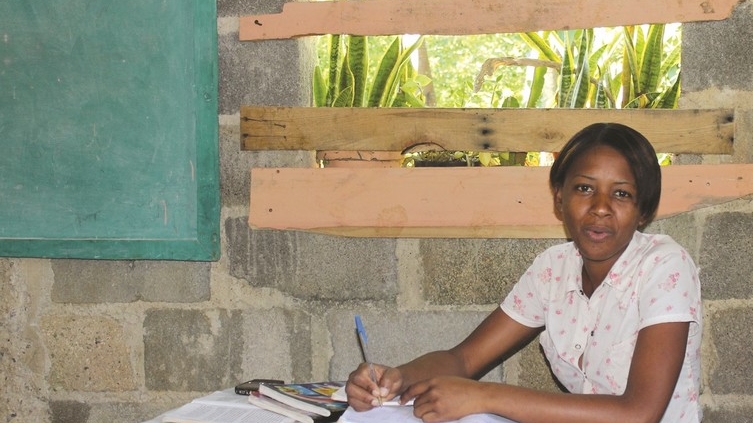 In the community of El Toro de Guerra, at the periphery of Santo Domingo, 28-year old Lidia de la Cruz runs "Escuelita Arco Iris" (Rainbow School) attending children of the community who need help for their homework and review their lessons. The children would not be able to do so at home, because their families lack time or knowledge to help them. Lidia welcomes 25 to 30 children aged between 4 and 11 years every day.
With consecutive loans from ECLOF over the last 4 years, Lidia has set up a small classroom with basic equipment: a few desks and chairs. Beyond school knowledge, Lidia teaches children social values and how to interact with each other; she motivates them and accompanies their self-development.
Characterized by perseverance and a desire to serve her community, Lydia has been supporting children since the age of 12. Although she never attended college, Lidia took her knowledge from school and carried on learning as an autodidact. Lidia wishes eventually to go to university to improve the quality of her teaching to her young pupils and her own children to come.
Her work has not only been fruitful but has also received due recognition. Lidia won the 2nd place as Educational Microenterprise of the Year in the CITI Micro Business Award 2013 sponsored by Citibank. More importantly, the people of El Toro de Guerra describe Lidia as playing the role of the sun that hits the rain to brighten the lives of her small neighbors with a beautiful rainbow every day.
https://www.eclof.org/wp-content/uploads/2018/06/ECLOF-2018-Dominicana-client-Lidia.jpg
561
753
atelierssud
https://www.eclof.org/wp-content/uploads/2018/03/ECLOF-Logo-microcredit-300x133.png
atelierssud
2018-06-13 15:10:51
2020-01-27 11:56:03
Lidia & the Rainbow