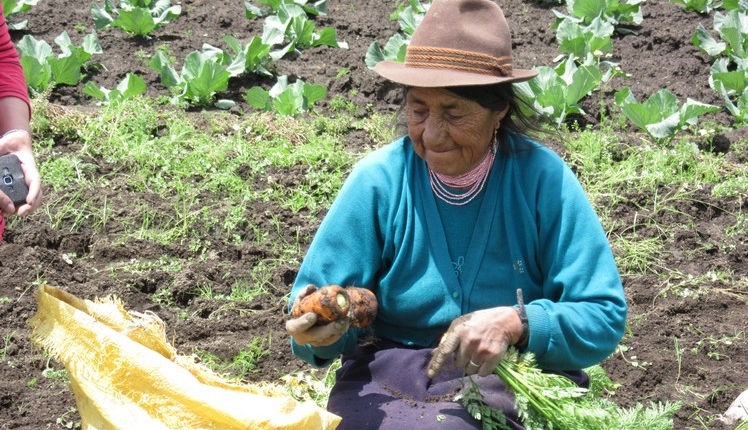 The indigenous community of Gatazo Zambrano is located in Ecuador's Chimborazo province. Chimborazo is the second poorest province in Ecuador where an estimated 80% of the population live below the poverty line. The majority of the poor stem from indigenous communities of Inca descent. These far-flung mountain communities offer limited access to economic opportunity, education, clean water or health care. Gatazo Zambrano's population is 70% indigenous. Around 300 families make a living from agriculture and breeding small livestock.
ECLOF Ecuador first started to serve the community 14 years ago. At that time the people had no experience in financial management and no loan collateral to offer. But ECLOF stayed and offered close touch service and rigorous loan monitoring. In order to be able to borrow, the community members gathered in an association named "Llankak Runakuna" that was legally recognized. With the first ECLOF loans, they financed land acquisition. Subsequent loans were used to finance seeds, irrigation systems and small livestock. Later the association grew and developed a processing center where they perform quality control, package and dispatch the harvest to be marketed in the cities of the coastal zone.
In contrast to other finance providers, ECLOF has recently started to include young people for whom it is traditionally difficult to access credit. Besides finance, ECLOF has been providing continuous training to the association members: 58 people were trained in financial education, community management and leadership; 26 women took place in workshops on self-esteem building and empowerment.
From the 300 families in Gatazo Zambrano, 120 families are directly benefiting from ECLOF's services right now. They have been able to increase their income, food security and access to education. On average, the families have three children. The witnessed rise in living standards has allowed many of them to send their kids to secondary school or even university.
Looking ahead, ECLOF plans an innovative training program on organic farming for 70 community members to learn organic production techniques, improve their product quality, workplace safety and eventually their quality of life.
https://www.eclof.org/wp-content/uploads/2018/06/ECLOF-2016-Ecuador-Producers-association-Cotopaxi-Region-Carrots.jpg
561
748
atelierssud
https://www.eclof.org/wp-content/uploads/2018/03/ECLOF-Logo-microcredit-300x133.png
atelierssud
2018-06-13 14:58:28
2018-07-23 16:49:28
Gatazo Zambrano - Community building, training and loans for a highlands indigenous community