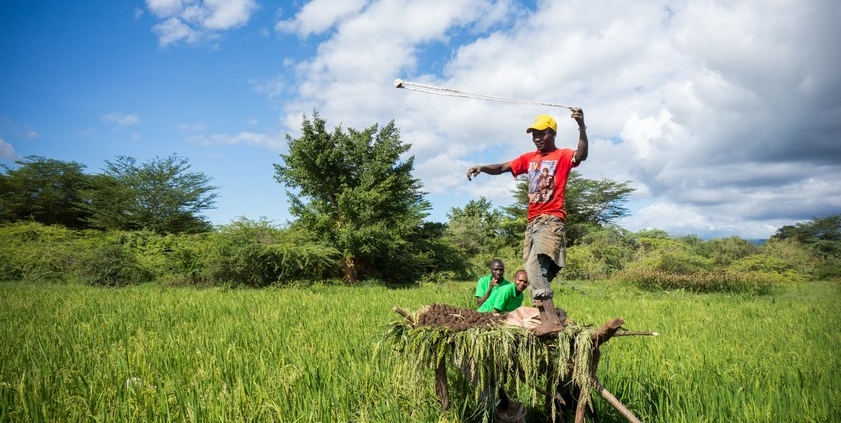 Accounting for 29 % of GDP and 80 % of employment, agriculture is the backbone of Tanzania's economy. Still, access to finance remains illusionary for most rural borrowers. While some banks have begun extending collateral-free and low interest microcredit to the poor, most serve only urban areas, leaving rural areas largely untapped. Even fewer banks or microfinance institutions offer loans specifically for smallholder agriculture. An alternative for farmers is membership in a Savings and Credit Cooperative (SACCO). SACCOs, however, tend to charge high interest rates and don't always offer repayment plans adequate to the farmers' stream of income.
In recognition of the demand from clients and the potential social impact, ECLOF Tanzania decided in 2014 to venture into agricultural lending. After initial market research in the Moshi and Arusha areas, a dedicated rural office was opened in Bangata.
Loan products and a credit methodology were developed which were geared towards the specific income streams of farmers. By 2015, over 100 farmer clients had become ECLOF clients, as individuals or through solidarity lending groups.
To ensure success of the pilot, ECLOF mainly targeted irrigated farms. This reduced the weather risk and ensured good repayment of the loans. Overall, the repayment of agricultural loans has proven to be excellent so far. ECLOF attributes this to the strong social bonds in the rural communities, the loan products tailored to client needs, and the credit process.
Most smallholders among ECLOF clients own half or one acre of land where they cultivate maize, rice or green vegetables like tomatoes, cucumber, fresh beans or potatoes. The average loan amount of USD 500 serves for procuring inputs like seeds, fertilizer and pesticides.
During 2016, the agricultural lending program was rolled out to other branches in the country. Dedicated staff with agricultural training was hired. Nowadays, the agricultural portfolio makes up more than 20 % of all loans of ECLOF Tanzania. 25 % of all clients are farmers, and 2 in every 3 clients are women.
Client story – Diana Kimario

Kahe village, located 50 kilometers out of Moshi, is one of the villages ECLOF serves from its Moshi branch. Residents in this area depend almost exclusively on farming and raising livestock for their livelihood. There is a reasonably reliable irrigation scheme operated by a local cooperative. Although this makes farming less weather-dependent and thus less risky, there are hardly any other finance providers serving the area.
Diana Kimario, 24-year old mother of two young children, is a small scale rice farmer at Kahe village. Her husband is a farmer, too. They live on rented land but own some livestock and a field of half an acre that they cultivate together. Diana is a member of a solidarity group of 8 farmers, 4 men and 4 women, from the same village. She received her first agriculture loan of USD 440 from ECLOF Tanzania in 2016 for buying agricultural inputs. Thus she was able to adequately plant and harvest her entire plot. From the income, Diana improved their home and paid school needs for her children. Together with her group, she recently decided to take a second loan from ECLOF to rent a plot of 10 acres and grow rice there together as a group.
ECLOF was the most attractive finance provider for Diana. The local Savings and Credit Cooperative (SACCO) can provide only small amounts, charges high interest and does not offer a repayment plan that is adequate to her income from farming. An alternative is taking an advance loan from a local miller. However, in return for the loan the miller keeps the valuable outer shell of the rice which she could also sell. Thus, loans from the millers turn out very expensive and farmers consider them a last resort.
https://www.eclof.org/wp-content/uploads/2018/06/agri-project-1.jpg
561
841
atelierssud
https://www.eclof.org/wp-content/uploads/2018/03/ECLOF-Logo-microcredit-300x133.png
atelierssud
2018-06-13 11:12:07
2018-07-25 16:23:46
Developing agricultural lending in Tanzania